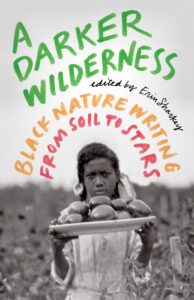 Honoring Black History Month Through the Wilderness Lens
A Darker Wilderness: Black Nature Writing from Soil to Stars
Author: Emily Benz
From across the hills and valleys of the Driftless region of the upper Midwest I am writing to press a book into your hands. I recognize I am writing this from a privileged place and of relative ease, so I am urging other white Mountain Mamas like me to go be a student of Black women and writers for just twelve essays that will crack open your mind and heart.
A Darker Wilderness: Black Nature Writing From Soil to Stars will take you on a gorgeous journey through the wellspring of words of these attentive and engaging writers. The entire collection, as Sean Hill aptly writes, is "making a case for reframing what we think of as engagement with nature." Within these stories you will find that nature takes myriad forms as the authors share experiences that redefine our sense of place.
Nature is a beacon of hope.
Nature is a respite from chaos.
Nature is a healer.
Nature is a constant.
Nature is a connector.
Nature belongs to everyone and no one all at once.
This long-overdue collection of Black voices left an indelible imprint on me for how to frame a relationship to nature. In the opener, Carolyn Finney writes "…all of our stories are in relationship… I am because you are. Upright and resolute. And the land remembers, even if we do not. For as the earth breathes, so do we. Because this is our home."
The land remembers absolutely but we should too. "Nature writing is rooted in the American experiment (think independence, innovation, Western expansion), but who is left out from the canon just above?" Erin Sharkey goes on to encourage readers to be open to new stories from our history, new lenses with which to see, and to be curious how these voices might help create new understanding.
Black bodies have worked on the land, have loved and enjoyed and protected our natural places and histories, have seen trauma and mystery and deep beauty. It is high time their voices are elevated. Let this book be one step of many.
The collection is a journey across varying landscapes big and small and also across time. You will find familiar and significant historical moments that need fresh eyes and you will meet beloved family members in personal tales.
You will ride along down rapids through rivers, down alleys, to small fishing holes and within prison walls.
You will sit on front stoops with the smallest bugs, revel in downpours and be shown ways to expand an understanding of the natural world.
Let the stories change you. Go on.
Our interdependence is undeniable and that theme runs deep in A Darker Wilderness. None of us owns this land and ownership of any kind is wrought with troubles. Naima Penniman urges you to remember that these Black writers are "descendants of persistent quests for freedom." and that perhaps we are all "finding our way back to our rightful relationship with the Earth that we belong to."
The language and imagery in these stories is rich. It is possible to simply soak in their words and works and teachings but let them make you uncomfortable and then perhaps reemerge with a new understanding.
You will feel joy and fear and intrigue and shame and wonder. Run to that. Learn from it and then let's be better allies and advocates.
This land belongs to no one and everyone all at once. I hope you will find your way to these writers then put your feet back on the ground and keep going forward.
A Darker Wilderness is edited by Erin Sharkey, 2023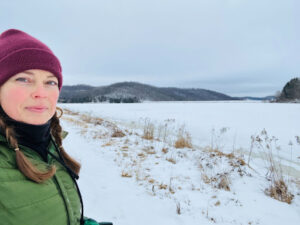 Emily Benz is a long-time science teacher and the Big Encourager behind Rural Remedy, a small business dedicated to sharing yoga practice and philosophy, cultivating creativity and actively making a connected community. Emily taught high school science for many years and is a National Board Certified teacher. Most recently she spent time with the Driftless Area Land Conservancy as Education Programs Coordinator and Communications Lead. She is a Mountain Mama living on land once walked by the Ho-Chunk nation in the Drifltess Region of southwest Wisconsin. She shares her life with her husband and a handful of two and four-legged children.