Colorado is home to a lot of haunted houses and hotels – the Stanley Hotel in Estes Park, the Molly Brown house in Denver – but did you know Colorado has a lot of haunted hikes too? Here are our top 6 "family friendly" haunted (or just plain spooky) public lands… all protected for generations of ghost hunters and spook seekers to come thanks to the Land and Water Conservation Fund. If you want to help keep Colorado haunted, click here to sign our petition to Congress to encourage them to fully #FundLWCF.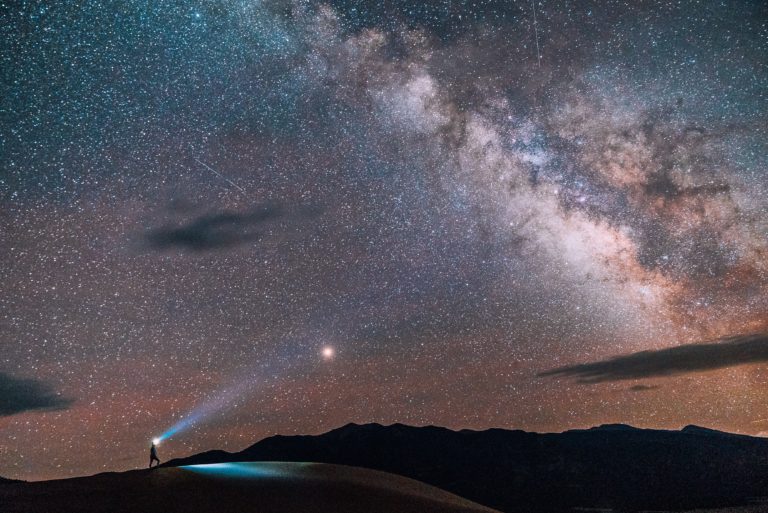 #6 – Great Sand Dunes National Park (Crestone/Alamosa)
Of course the Sand Dunes is on our list, from UFO sightings to unexplained cattle mutilations to sightings of Big Foot, the Sand Dunes may not be haunted but it's certainly full of spooky happenings. In addition, the community on the northern border of the park, Crestone, is home to the Crestone Crater and an energy vortex – part of the reason it has become a spiritual and new age capital.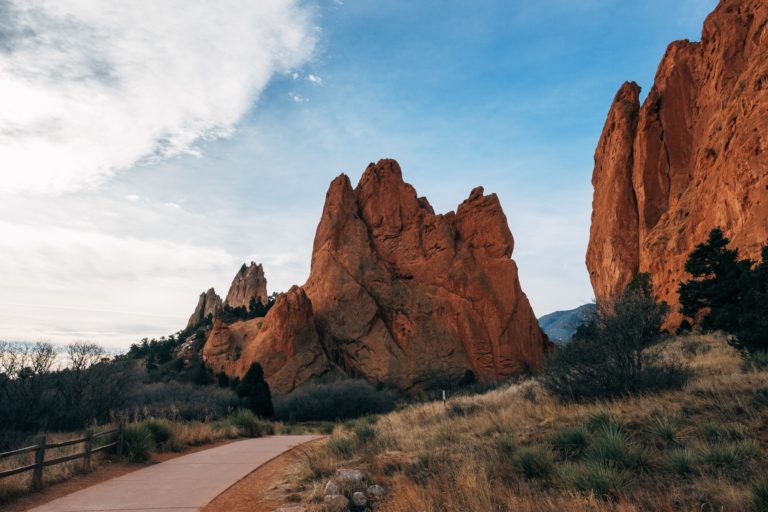 #5 – Garden of the Gods (Colorado Springs)
Garden of the Gods is mostly known for its family-friendly trails, the kissing camels, and stunning views. But did you know it is also known for a few mysterious hauntings? Rumor has it, that before it was developed by the Palmer family, it was a burial ground for local tribes. If you go when it's quiet (good luck) and put your car in park on the road, you may feel your car being pushed or pulled out of the way. In addition, while walking along the path, you may hear voices echoing around the nooks and crannies of the rocks.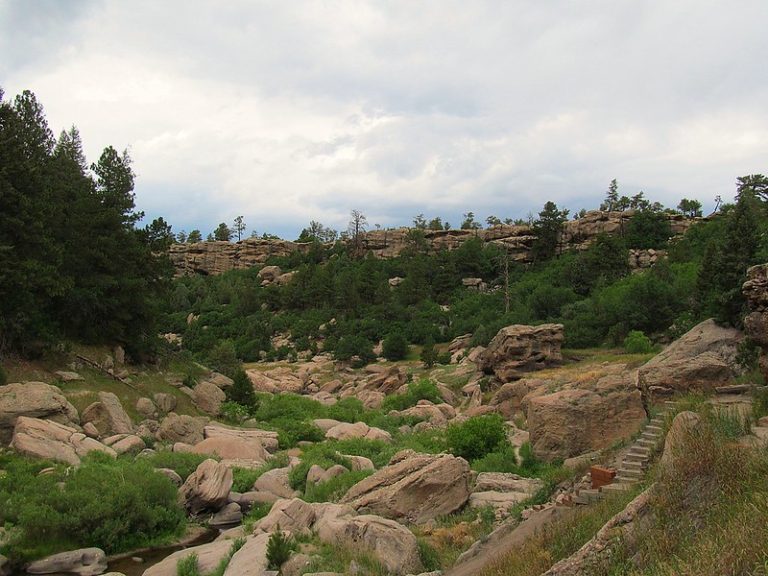 #4 – Castlewood Canyon State Park (Castle Rock)
Located along Colorado 83, just east of Castle Rock, this state park has it all. Things in the offices suddenly moving from one end to the other or display cases shaking and doors slamming, a 40 year old murder mystery, and hairs standing on the back of necks as hikers approach a certain bluff. If you love ghosts, then you'll want to add this park to your must-visit list. Read more here.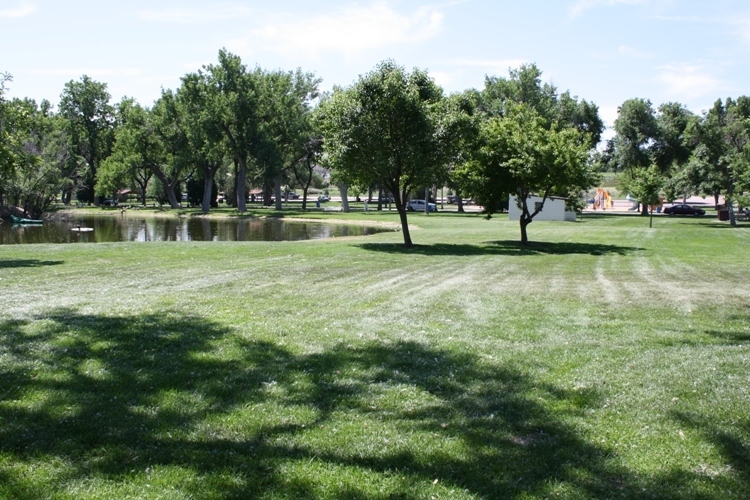 #3 – Riverside Park (Fort Morgan)
Home to the River Witch, an outcast who killed herself in the early 1900's, people who walk the Fort Morgan Nature Trails say they feel her presence with every step. Reports are mixed: some say the Witch is seeking revenge on those who shunned her, while others say she seemed to welcome their company and even hung around awhile seeking the friendships she missed out on in life. Apparently the Witch likes the day just as much as the night, so you can take your family to greet her no matter the time.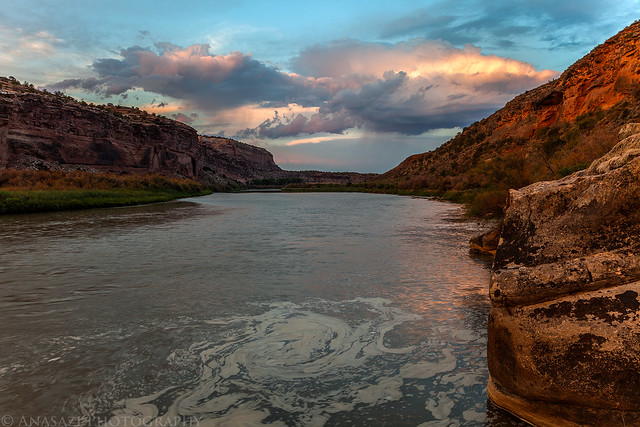 #2 – Horsethief Canyon (Fruita)
Whether floating or scrambling through this canyon, visitors often report seeing an apparition of a woman dressed in white on the trail ahead of them. Supposedly she was trampled to death by a smuggled herd of horses (yes, that's where the canyon's name came from). While she keeps her distance from groups, she approaches lone hikers to see if they'll keep her company in the canyon walls.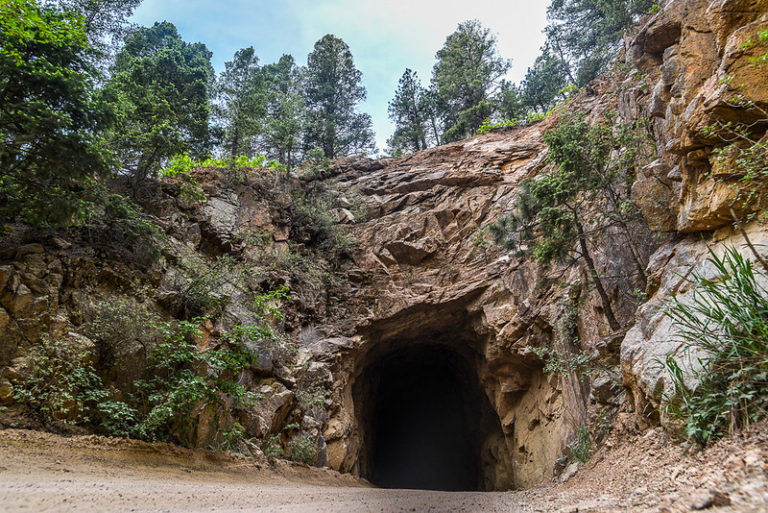 #1 – North Cheyenne Canyon (Colorado Springs)
North Cheyenne Canyon is home to two haunted hikes: Helen Hunt Falls and Gold Camp Road. When visiting Helen Hunt Falls at night (which we don't recommend, the terrain can be disorienting), hikers report hearing voices among the rocks and seeing the silhouette of a woman scrambling among the rocks. Meanwhile, Gold Camp Road is haunted 24 hours a day. Park in tunnel 2 (again, we don't recommend this – the road is very popular these days), turn off your lights and engine, and you'll feel your car being pushed out of the way before hearing a mysterious car swoosh by. Hike up to tunnel 3 and peer in to hear children's voices and a horn (some say the tunnel collapsed on to a school bus, but there's no official record). Most of the offshoot hikes from both Helen Hunt Falls and Gold Camp Road have also recorded strange instances: hikers feeling hands on their backs, rocks that appear blood soaked one minute and clean the next – there's definitely something spooky happening in this area!
All of these haunted places will be haunting us for generations to come thanks to the Land and Water Conservation Fund (LWCF). However, LWCF is under a very real threat. Though it is funded by taxes on oil and gas development, Congress routinely raids the fund for other purposes – scary, right? We're calling on Congress to keep Colorado haunted by asking them to fully #FundLWCF moving forward so none of these haunted locations fall prey to something much scarier than ghosts. Sign your name!