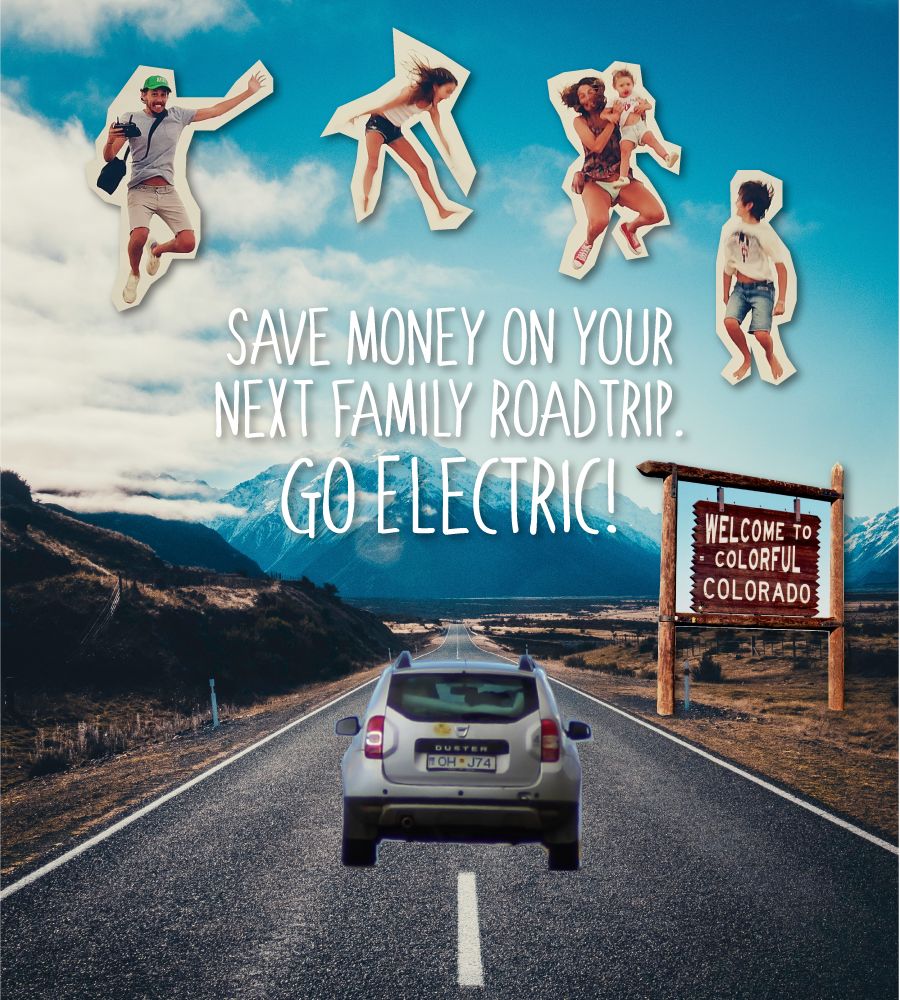 If you're like us, you want a budget-friendly family vacation. That's why we've compiled a list of road trips right here in Colorado that you can take with an electric vehicle (EV).
Why EVs? They help keep our kids healthy by limiting the pollution in Colorado's air – and Colorado's tax credits make us the cheapest state in the country to buy an EV! They're perfect for a frugal family's budget – you can:
Save up to $1,000 a year on fuel costs alone!

EVs cost less than half to travel the same distance as a gas-powered vehicle
EVs have fewer parts so there's little maintenance (can you imagine a life with no oil changes?)

Obtain a federal tax credit of up to $7,500 based on car battery
Qualify for a buyer's Colorado income tax credit of $2,500 (source)
Worried about EVs running out of power in the middle of nowhere?
Don't be – we recently heard Colorado now ranks #4 in the country for charging stations….so we put that to the test and created our favorite road trip routes to see if you can travel them in an EV (hint: you can!).
The Road Trips
All of our road trips start in Denver, but you can use Google Maps to customize:
Explore the Borders (7-10 days)
Parks & Monuments (7-10 days)
Hot Springs, Sand & Canyons (a long weekend or a week, depending on if you want to include the canyons)
Wildflower Passes (a long weekend to a week)
I-70 Love (a long weekend)
Rocky Mountain National Park (a weekend)
America's Mountain (a weekend)
A special bonus idea for more adventurous families or those with older kids
Map Key
Included in each map are three key features:
Directions: Blue lines
Charging Stations: Green dots
Kid-friendly Points of Interests: Multi-color dots (but we couldn't include all of the fun points so be sure to zoom in and explore the areas around your trip)
Why these trips?
For us, staying on budget usually involves some camping to save on hotel and entertainment costs. Plus we love to be outside with our kids! So we chose road trips that cross Colorado's public lands and outdoor recreation areas that are kid- and camping-friendly.
Do you want to recommend your own EV road trip? Email us at [email protected]
Explore the Borders
The longest road trip on our list is a great choice if you have a week to 10 days. This one is for families who want to explore the edges of Colorado, from its plains to its mountains, to its canyons – our borders have a lot to offer!
Parks and Monuments
Did you know Colorado has four National Parks and eight National Monuments? See them all on this epic zig-zagging road trip! We recommend spending at least a day or two at each location, making this a week to 10 day trip. Pro tip: if you don't have that much time off, split it up into sections and pair the Parks or Monuments with other road trip ideas on this list.
Hot Springs, Sand and Canyons
What could be better than traveling from hot springs to hot springs while also taking in the breathtaking views of the Great Sand Dunes National Park (a certified dark skies area) and the canyon-filled National Parks and BLM land surrounding Moab, Utah? Cut out Moab and make this a long weekend trip, include Moab and make it a week long trip.
Wildflower Passes
This route follows both paved and dirt roads (no need for 4WD) through some of Colorado's wildflower hotspots, as well as the world's largest aspen grove. If you're fast and your kids don't mind the car, this trip can be done in a long weekend – if you'd rather enjoy the slower pace of the mountains, take a week to do it and you'll still be wanting more.
I-70 Love
Yes, you're more likely to run into traffic, but there's a reason I-70 is so popular: so many accessible opportunities so close together. For little ones who may be unpredictable in the car, it's rare you'll pass an exit on I-70 that doesn't have something fun y'all can do.
Rocky Mountain National Park
The classic Front Range road trip – yes, you can definitely take this short trip in your EV. Even better, you'll be able to snap great pics of the elk and moose in the Park because they won't be able to hear your car coming!
America's Mountain
The other classic Front Range road trip, all around Pikes Peak, Garden of the Gods, and more. Spend the night near Colorado Springs to make it a weekend trip or leave early and make it a day trip – this one is great for kids who don't like the car and love the North Pole.
BONUS: Wilderness Adventures
Is your family feeling more adventurous or have older kids who need to disconnect from technology? Then head to one (or more) of Colorado's 41 Wilderness Areas. Fun fact: Colorado's own Flat Tops Wilderness is credited with inspiring The Wilderness Act of 1964, which protects these areas from development, roads, and machines. Use the map below to design your own road trip.
PS: Don't think these 41 Wilderness Areas are enough? Right now some of Colorado's congressional delegation are sponsoring the CORE Act, which would protect even more of Colorado's unique public land from development!
Now What?Ready to go but want more information on these charging stations and if they'll work for you? Check out Plugshare, where you can filter by charging stations or plug type.