How to Poop In the Woods – the RIGHT WAY!
It's a fact of the Mountain Mama lifestyle – we're going to have to take ourselves or our littles for a poop trip in the woods. And yet there are far too many adults who haven't yet mastered this skill! 
Have no fear – the Mountain Mamas and Friends of Hyalite are here!  We've partnered up and made a fun video to navigate this necessary rite of backcountry passage, using Leave No Trace principles and a good sense of humor. 
Whether you're on developed trails or forging your own path, when you gotta go, you gotta go! 
We compiled our best instructions and tips for pooping in the woods, no matter how prepared or unprepared you are. There are many tools and supplies that help it all go a lot smoother, including the wag bag, groover portable toilet, a jar with bag, and even a simple garden shovel. 
There also may be times where you find yourself without any supplies at all. Have no fear, we've got you covered there too – literally!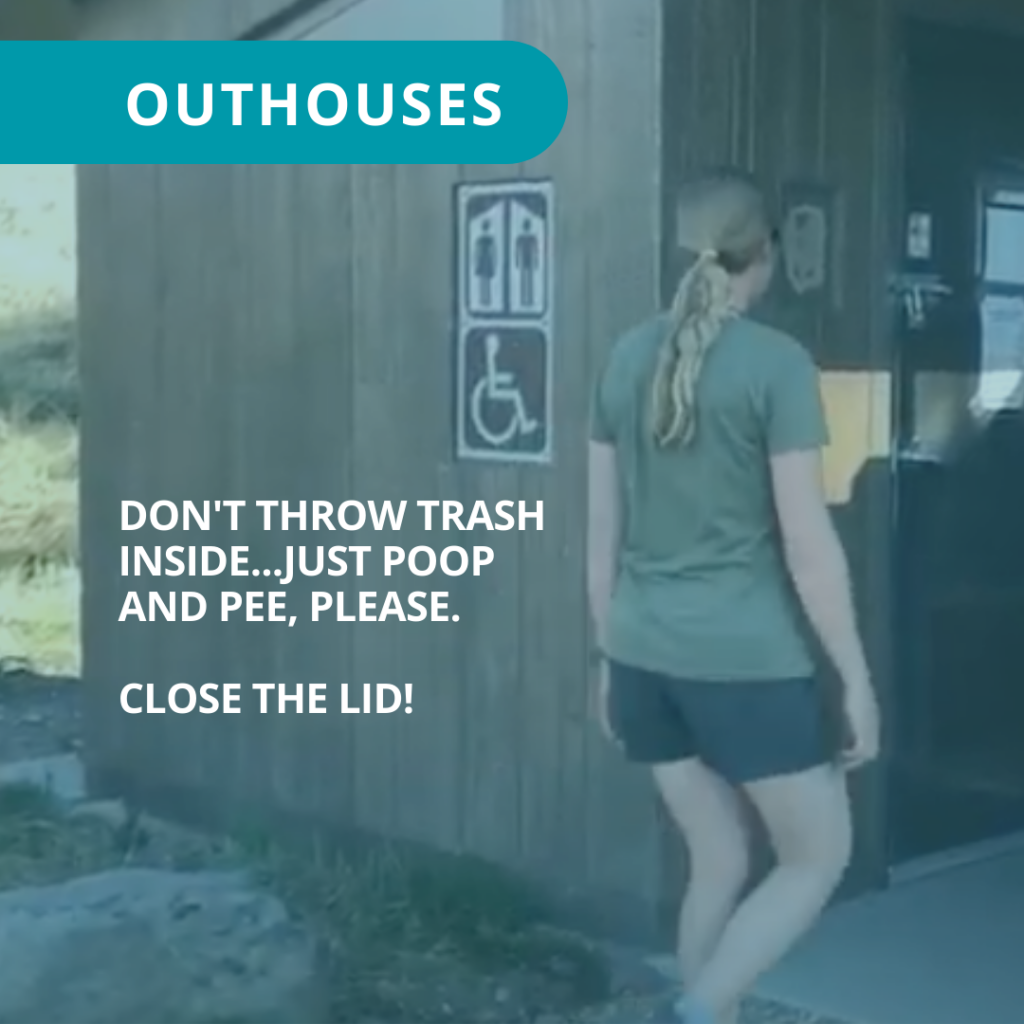 These are perfectly straight forward and the best place to poop. Afterall, it's what they're made for! 

What they aren't designed for is your trash. Don't use the toilet to dispose of anything other than toilet paper and your own waste. 

When toilets get clogged up with trash, it makes them more expensive to pump and the person pumping out the waste will have to pull out your garbage by HAND and nobody wants that!

Make sure to close the toilet lid for proper ventilation and to reduce the stink factor.
PORTABLE TOILET AKA "GROOVER"
You can buy these already made, or you can DIY one with the following:
5 gallon bucket with tight fitting lid

Toilet seat

Liner bag – heavy duty contractor bags are our personal choice

Dry material such as cat litter, saw dust, or potting soil
Find a private place at least 100ft from water. 

Line the bucket with a bag and put a layer of your dry base material in the bucket. 

After you're done, add another layer of dry base material and snap on the lid. This helps guarantee no animals will get into your toilet.

At the end of the trip make sure to dispose of the bucket contents in an approved location such as an RV dump station.

Reuse. Reuse. Reuse.
TIP: It's best to limit the groover to solid waste because pee or trash will fill it up too quickly.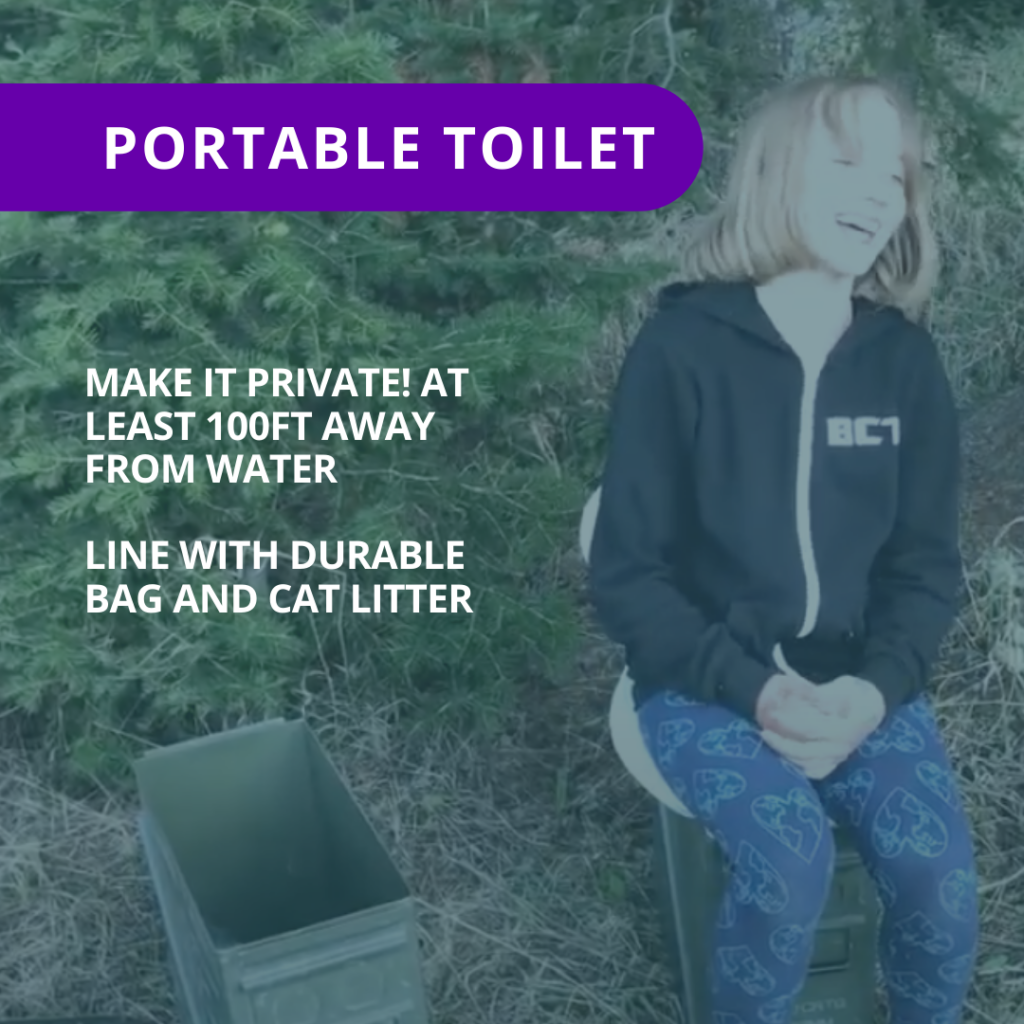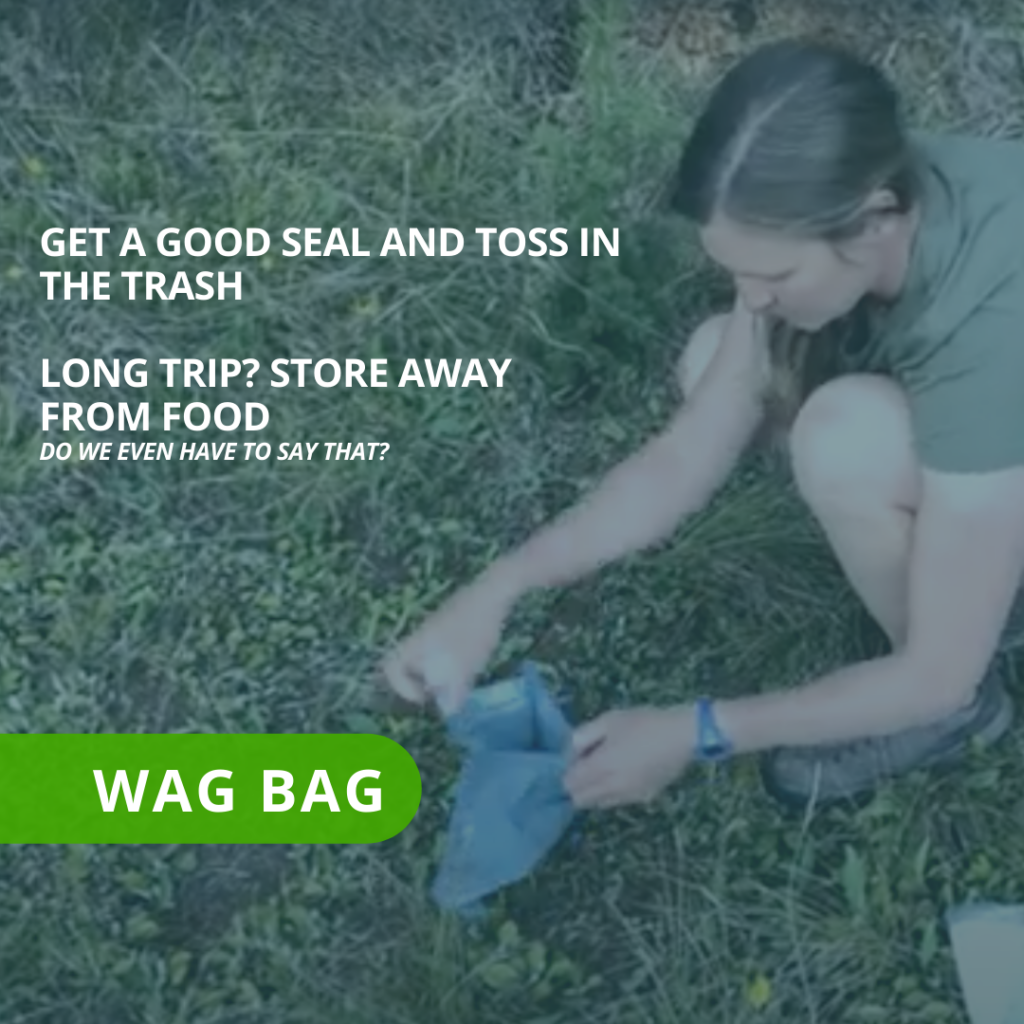 This option is most ideal for sensitive areas which may see a lot of visitors. It's like a personal dog waste bag, which you also should not leave behind!

Wag bags include a solidifying agent which helps break down poop and deodorize it so the wag bag can be disposed of in a normal trash can. 

Each bag includes

Hand sanitizing wipe

Solidifying agent

Small portion of toilet paper

Outer bag with zip closure

To use, remove all contents and do your business in the large bag. Cover it with a solidifying agent, cinch tight, seal, and tie off the inner bag. 

Put that bag into the outer pouch, use and dispose of hand sanitizing wipe and toilet paper and use the zip closure of the outer bag to conceal all waste and trash. 

The wag bag should now be leak and odor free, perfect for storing on multi day hikes until a designated trash can is available to you. 

Using a designated trash bag for the storage of multiple deposits and storing away from food is also helpful.
This DIY wag bag can be made with a seal-tight container, like a peanut butter jar, and a grocery sack. Simply poop in the bag, tie it off and place it into the jar which will seal off any potential leaks or odor. Dispose of it when you get back to a trash bin.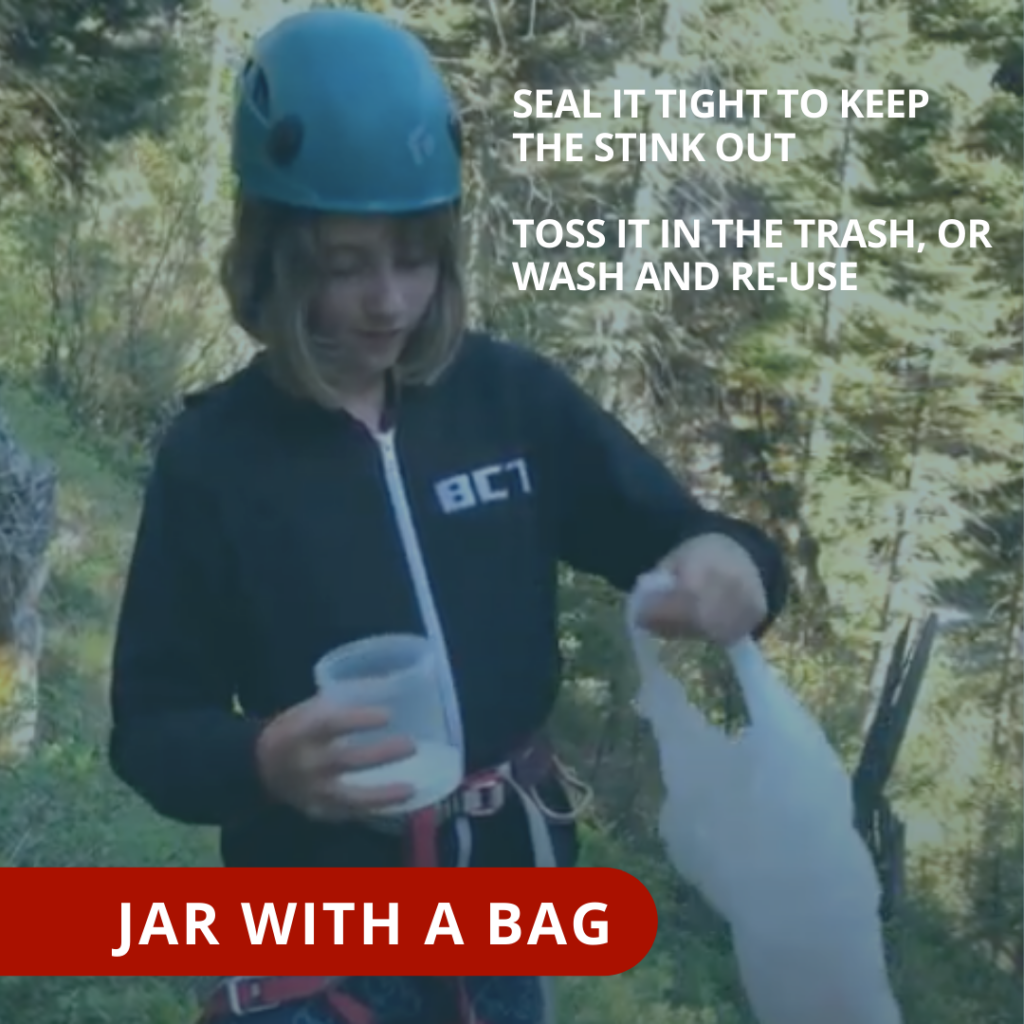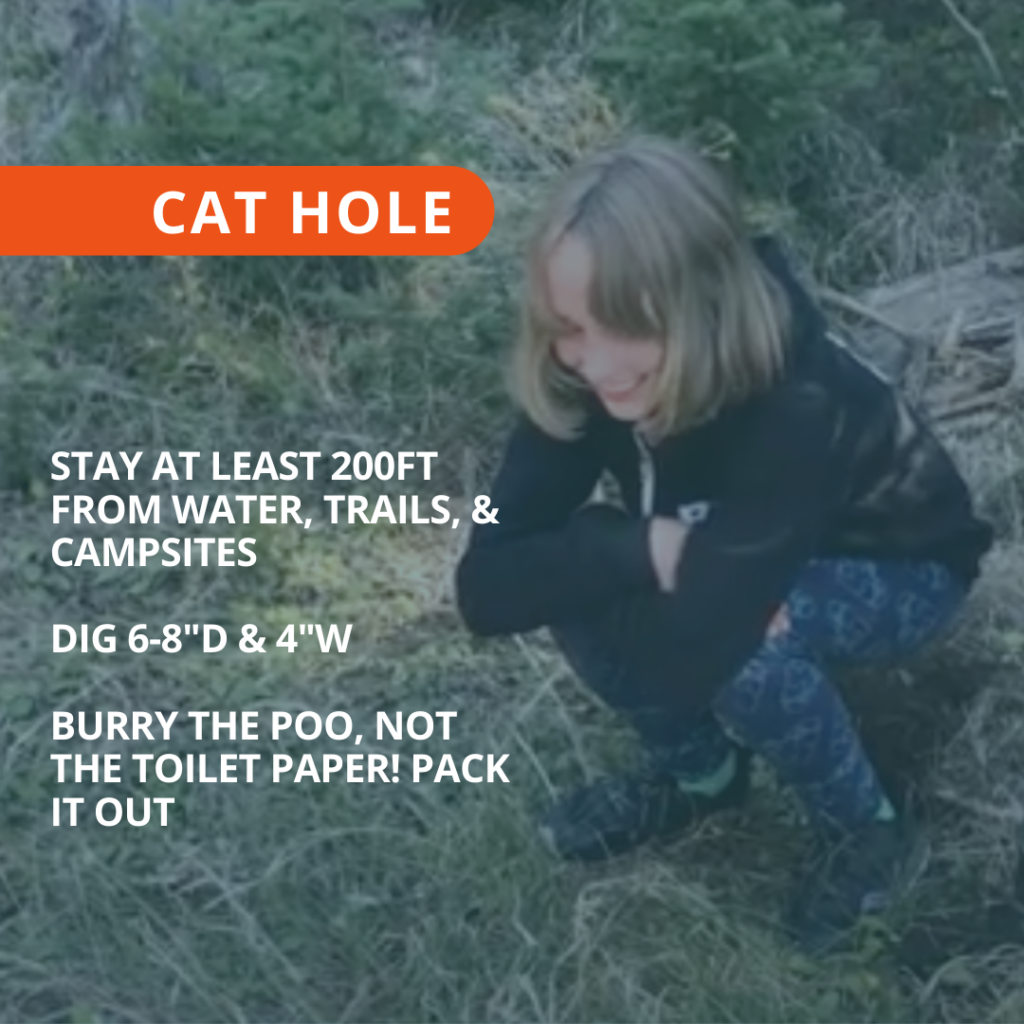 Select a proper location at least 200' from water, trails, and campsites. Choose an inconspicuous, elevated site where others won't see or smell it, and water won't pass over during run off from rainstorms. 

Human poo is bad news – often containing bacteria and viruses that can cause disease. KEEP AWAY FROM WATER!

Using a shovel or stick, dig a hole 6-8" deep and 4" wide. Do your business in the hole and then bury it with the previously dug up soil. Disguise the surface so that it will blend into the surrounding area. 

POOP EMERGENCY?

If in a pooping emergency you don't have a shovel or stick available, dislodge large rocks until you've found a hole which is 6-8" deep and 4" wide. Use this as a cat hole and bury waste with organic soil if possible or reposition the large rocks.

DO NOT BURY TOILET PAPER!

Store used toilet paper in a ziplock bag until it can be disposed of in a trash can. 

There are many natural alternatives to using toilet paper including snow, balsamroot leaves, smooth stones, sticks (maybe?) and more. 

Eventually soil organisms will break down waste.
Above all, do your best to Leave No Trace with your poop. Keep it safe, discrete, and environment-friendly. Nobody wants to hear a bad poop story…but here's one anyway:
Once, I was on a multi day backpacking trip and a friend did not poop far from camp or bury it well – my other friend's dog found it & rolled in it! Luckily there was a lake nearby, but none of us would pet the poor pup the rest of the trip – @ladyrunnersbozeman.
Trail pooping is as much about others as it is you. Take good care out there – teach your kids and your friends about healthy trail pooping. Happy Trails!