Great news!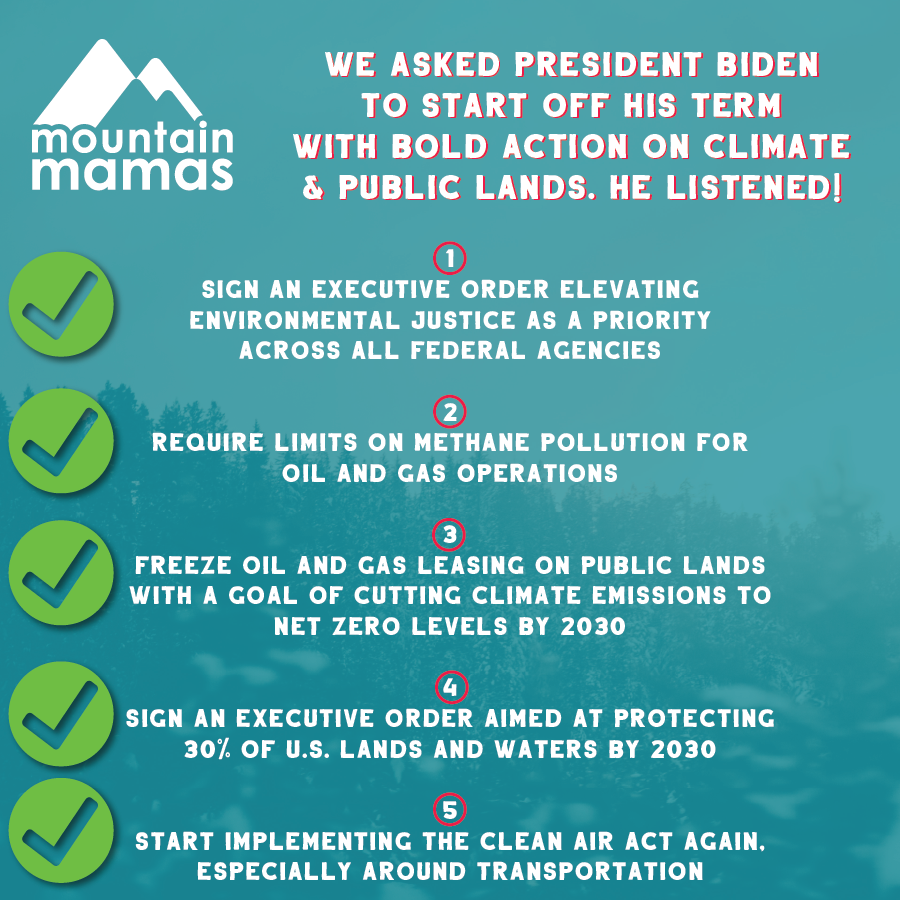 President Joe Biden, just a week into his Administration, signed several Executive Orders to place a hold on new federal oil and gas leases on public land and has set an ambitious goal to conserve 30% of U.S. lands, waters, and ocean areas by 2030! He has also elevated climate change as a national security threat, rejoined the Paris Climate Accord, and revoked the permit for the Keystone XL pipeline.
Moms across Colorado celebrate our new President who is willing to look forward and consider the impacts our actions will have on our children. One who values science. Someone who is brave enough to say we must think not just about today but about tomorrow, too. In a time when it is often politically expedient to prioritize short term, temporary gains, we are so grateful to have a leader that cares about today but also about what will be beneficial for future generations. That is true leadership.
All moms want their kids to thrive. We must find win-win solutions like renewable energy that provide us with what we need today but do not leave our children a burden of cleaning up after us. We do not want to leave our kids a future of air pollution, drought, devastating wildfires, floods, diminishing snowpack, and rising temperatures.
Extraction of fossil fuels on public lands and waters account for almost a quarter of our nation's climate-changing carbon dioxide emissions. In addition to generating dirty fuels and polluting our air, it damages the federal lands that we all own and the places we go to enjoy recreation, exercise, rejuvenation, and exploration with our kids. We're quickly losing our natural areas in the U.S. We lose an area the size of a football field every minute.
Rather than damaging our public lands and harming wildlife with coal mines and oil rigs, we should protect them by using clean renewable energy, which provides jobs for the future – not the past. Our grandchildren will thank us when they can enjoy our outdoor quality of life as we do today. And by conserving our land and water, we create a natural system that will endure, and maintain healthy, functioning ecosystems; systems that we all depend on for clean air and clean water and that offer natural carbon sinks.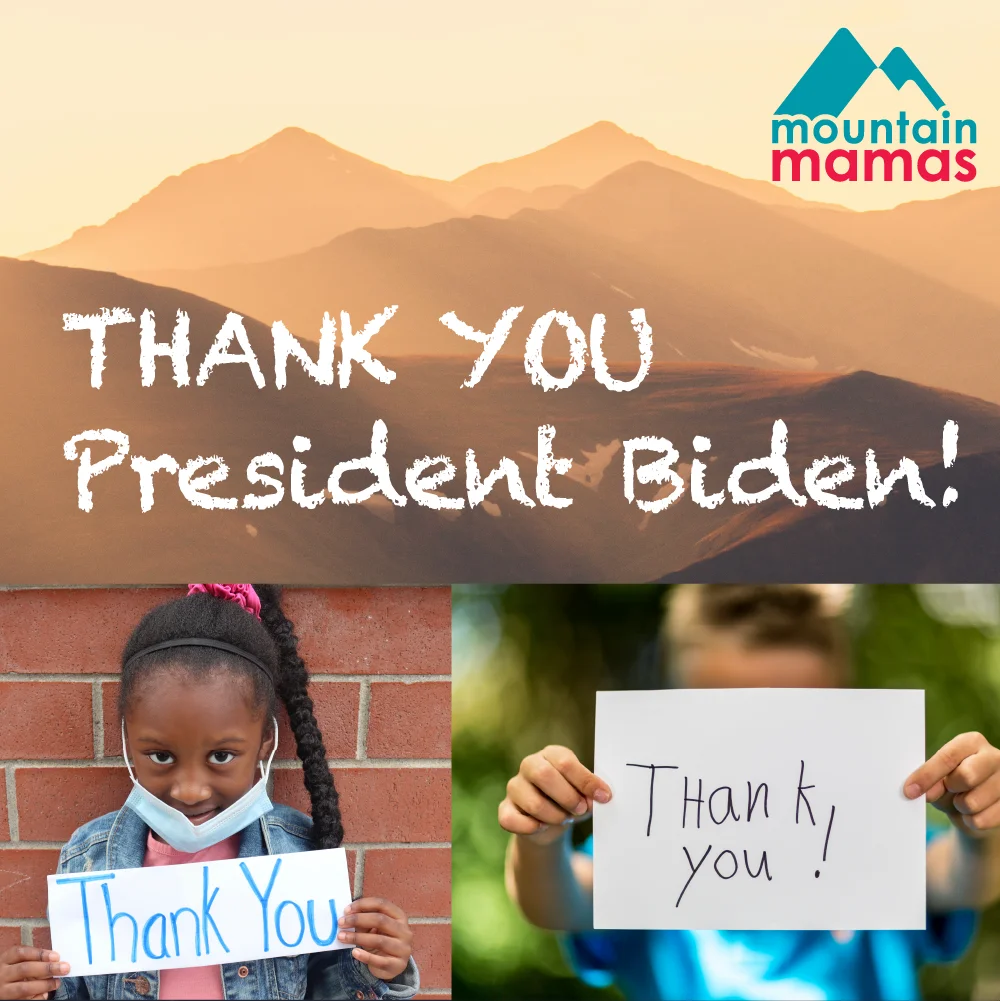 Some say innovation will solve the problems we are creating today but why would we take that chance with our kids' future? Why would we say to our kids: Here kids, we destroyed the planet, you figure it out? As parents, our job is to set up systems to ensure success for the next generation. Every day we do our best to see that they get a good education, ensure they are well-fed and healthy, and teach them life's lessons so that they can make the best decisions. It's the same with the natural environment that they will inherit from us, it must be resilient to survive and meet their needs too.
Mamas are so grateful that President Biden is taking bold action to secure a brighter future for generations to come. However, he can't do it alone. Additional actions will be needed to reduce our carbon emissions sufficiently – so Congress and our Colorado state leaders must act as well. Make sure you are on our mailing list so we can share with you easy ways you can make certain your voice is heard with our elected representatives here in Colorado and in Washington, DC.
One impactful action you can take right now is to sign our thank you card to President Biden. He will hear from powerful, well-financed forces that want to continue business as usual, polluting our air and children's future. It is imperative that he hears from us as well- the Mamas that want a bright future for our kids. Please click here to let him know we are with him and that our children and grandchildren are counting on him. Together we can protect our kids' health today and their future tomorrow.